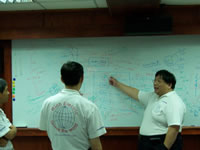 Rich Electric is one of the leaders for Industrial Automation in Taiwan specializing in microprocessor control, power electronics for motor drives and power supplies.

That reliability and adherence is the cornerstone of our engineering, and by following our customer's requests we started to bring a diverse range of products to the residential and commercial renewable-energy markets.
Using our experience we engineer the products exactly as our clients specify, we naturally listen carefully to the users, installers and distributors in the renewable-energy market when they tell us what they want so that we can deliver products suitable to current market needs.
The expanding Rich Electric product line is the direct result of providing the marketplace with the products it demands. We are dedicated to meeting those expectations with the highest quality products on the market.
Company Profile
The company was founded in 1998 by Mr Jung-Rong Chen (also known as Mr Eric Chen) with the main products being chemical and electrical machines, with frequency converters and control panels. Rich Electric became one of the largest manufacturers of advanced power electronics by combining our experience and technology; we are able to help make a positive difference in the lives of people around the world.
Our Pure Sine Wave Inverters is leading the way in advance power electronics and renewable energy systems. By combing proven technology with unparalleled market understanding, we bring our customers products then enable the delivery of electricity anytime, anywhere.
Rich Electric deals in the high growth segments of the advance power electronics market, with well-established products sold to a diverse customer base. Our technology enables you to convert electrical power from any source (back-up power, distributed, renewable generation) in to high-quality electricity required by today's electronics and electrical equipment. Our knowledge and experience in advanced power electronics is helping to accelerate the commercialization of emerging power system and solutions, as well as making this technology available and affordable for domestic uses. Our company's growth is fuelled by the increase demand for advance power electronics products; this is driven by society's dependency on electricity concerns over the supply of quality and reliable power needed for independence from traditional power sources, and an increase interest in renewable energy and global warming. Rich Electric's products are efficient, more reliable and more intelligent that traditional power conversion equipment. We provide products that meet the needs of a wide range of customers, either as a key component that is integrated into equipment or combined with a power source to provide a self-contained power solution.
Vision and Mission
To be the world's premier energy Products Company focused on speed drive and green power. We seek to produce financial rewards to investors as we provide opportunities for growth and enrichment to our employees, our business partners and the communities in which we operate. And in everything we do, we strive for honesty, fairness and integrity.
Our responsibility is to continually improve all aspects of the world in which we operate – environment, social, economic – creating a better tomorrow than today."